FIREMAKING
This guide will give you some information about the skill Firemaking.
Content:
1. Firemaking intro
2. Logs
3. Barbarian way
4. Pyre Ships
5. Pyre Logs
6. Light sources
7. Other items
8. XP from quests
1. Firemaking intro
If you want to make a fire you need 2 things; a tinderbox and some logs. You can get a tinderbox in a General Store for around 1 GP. You can get logs by chopping them with the skill woodcutting. Ofcourse you can also buy the tinderbox and logs from other players.
To make a fire you need to use your tinderbox on the logs, you will see your character making a fire. This will take some time, but when you reach higher levels it will go faster.
2. Logs
There are different types of logs, every log will burn 15 seconds longer. (Do not count in Teak and Mahogany)
Logs:
3. Barbarian way
You can only use this way if you have finished the firemaking part of the Barbarian training. It goes exactly the same as the normal way, but now you will be using a bow instead of a tinderbox.
4. Pyre Ships
The Barbarians like adventures. That is why they are going to the Ancient Cave very often, a cave located under the river from Baxtorian Falls. But sometimes, they are not coming back. Their souls stay in the cave, so they can not rest in peace.
You can burn their bones on a special ship and kill the soul which releases, so they can rest in peace. This soul is level 166 and can drop a dragon full helm.
You can get those bones by killing Barbarians in the Ancient Cave. To get there you need to have finished the Barbarian training. Sometimes the Barbarians in the cave will drop ''mangled bones'' or ''chewed bones''. Do not use the chewed bones, those are from the wrong Barbarians! You can use them, but then you will not get anything. You can put the bones in a ship, which you can make with logs at Otto's house. There will appear a spirit, kill it. Now you can bury an amount of bones with 300% prayer XP, that amount of bones
(the last row in the scheme)
depends on your firemaking level.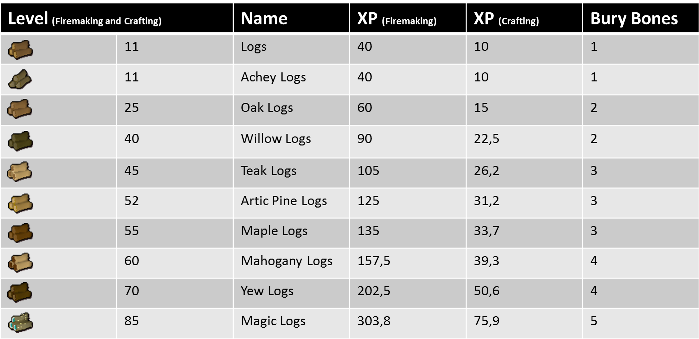 5. Pyre Logs
Pyre logs are getting used in the quest and minigame Shades of Mort'ton to cremate shades. This also gives prayer XP.
To make Pyre logs you need Sacred Oil, this can be made by using olive oil* on a special fire in the temple from Mort'ton. You need to make the temple by yourself in the quest or minigame.
*You can get olive oil in the General Store from Mort'ton.
6. Light sources
At some places in the RuneScape world, like in the caves under Lumbridge Swamps, it is dark. You are in need of light to see something there. You will not get any xp for lighting it.
Candels and Torches
You can buy candels and torches in the general store at Tai Bwo Wannai on Karamja. Candles are also getting sold at the entrance of the Lumbridge Swamps and at the Candle Shop in Catherby.
Candle Lanterns
You can make a candle lantern with molten glass, a glassblowing pipe and a candle. Blow with the glassblowing pipe the molten glass to a candle lantern and use the candle on it, now you can light the candle.
Oil Lamps and Oil Lanterns
If you want to make an Oil lamp or Oil Lantern you need oil, which is getting made from Swamp tar, and molten glass. For an Oil Lantern you also need an iron bar. You can find Swamp Tar at the lakes in the swamps at Lumbridge.
First you need to make an Oil lamp with a glassblowing pipe and molten glass. If you want to make a Lantern you need to smelt a Lantern Frame with your iron bar, then you need to use it on the Oil lamp.
After this you need oil, go with the Swamp Tar and the lantern or lamp to the chemist in Rimmington. On the east side you will see an Oil Still. Put the Swamp Tar in it and fill your lamp or lantern.
Bullseye Lantern
You can make a Bullseye Lantern with a steel bar, molten glass and oil. See above (Oil Lamps and Oil Lanterns) how to make it.
Mining Helmet
Mining Helmets are getting dropped by cave goblins in the quest The Lost Tribe.
7. Other itemsGnomic Fire Lighters
You can get Gnomic Fire Lighters from Clue Scrolls. You need to put them on a log so the fire will become green, blue or red instead of orange.
Harpie Bug Lantern
You can light these with level 33 and higher, they are not giving light. You can only use them to lure harpie bug swarms from Slayer. You can buy them at a Slayer Master.
8. XP from quests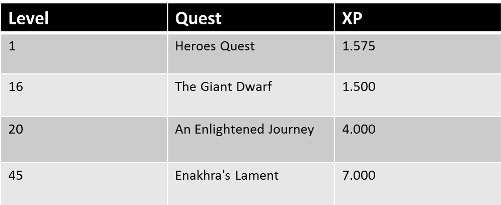 Done mate, its in html format for this following guide! Good job!
---
Permissions in this forum:
You
cannot
reply to topics in this forum